In line with Mission 2, aimed at promoting conscious and sustainable lifestyle, from September 2022, the Local Coalition of the Milan Pilot (Polimi, LAND and PlusValue) has worked to create the Herbula Wild Garden, a temporary garden laboratory where people can learn about urban biodiversity.
The Garden has been co-created and co-produced thanks to the involvement of possible beneficiaries of the area, starting from a Collective Gardening event with the MIND community, and then through activities dedicated to schools of the surrounding territory: BiodiverCity@MIND for schools and Herbula Lab - experimental activities with students.
The work done throughout the second half of 2022 and the early months of 2023 at MIND has finally culminated in an open-air exhibition, called Civic Nature, and an opening event during the MIND Innovation Week that hosted the speech of 2 experts from Studio Terra Viva, in charge of biodiversity mapping at MIND, and that involved more than 50 participants coming from the real estate sector, academia, and public administration.
The exhibition consists of an experiential path through the various areas of the Herbula Garden:
The planters, dedicated to the cultivation of aromatic and officinal herbs available to those who want to try their hand at culinary or herbal preparations;
The experimental area, designed and created by the students of the Istituto Agrario Vilfredo Federico Pareto in Milan, dedicated to the cultivation of edible native species that can be processed and transformed into everyday products;
The flowery meadow, dedicated to spontaneous vegetation capable of attracting pollinators and other useful insects to promote urban biodiversity.
Throughout the path, visitors can find several information panels and boards to help recognise herbs and wildflowers, to learn how to use them consciously in daily life, and to get to know the animals (large and small) that live in the city. Also, people are invited to action by browsing Herbula's digital archive, which can be accessed through QR codes spreaded in the area, and by contributing to biodiversity mapping following the simple instructions reported on the panels.
For the entire T-factor project, Herbula Wild Garden and its exhibition will remain freely accessible to the people currently working in MIND's spaces and to the general public.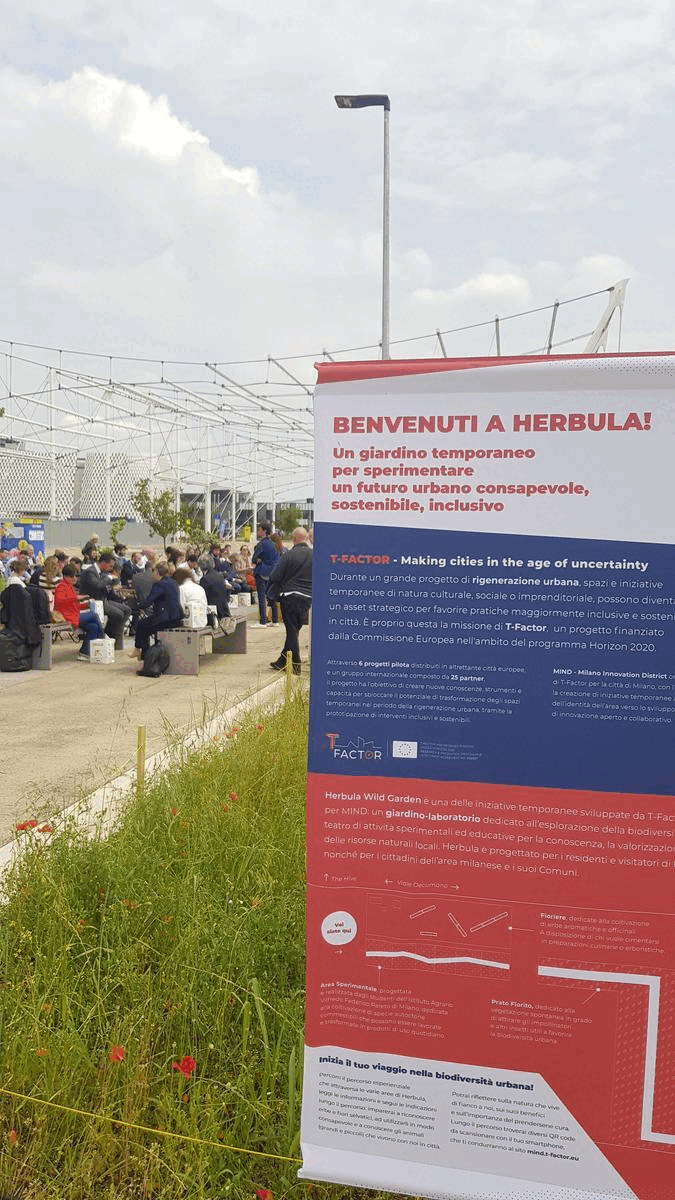 Mind
From: 01/09/2022
To: 09/05/2023
Mission:
Conscious and Sustainable Lifestyles