Bilbao's pilot established a portfolio of activities for experimentation and collective learning through a co-creation programme of three temporary uses (TU) that involve the collaboration of the cultural and creative spaces of Zorrotzaurre and three local HEI's (Mondragon University, IED-Kunsthal, and Deusto University), two of which are located on the island.
In Zorrotzaurre, the key mission is to leverage the meanwhile of urban regeneration to advance novel forms of learning and co-creation rooted in societal challenges. We see this mission as a unique opportunity for triggering collaboration between higher education centers and communities on the ground, unlocking new placemaking practices that can contribute to a more inclusive and sustainable Zorrotzaurre.
Bearing this goal in mind, on May 25-26 2022 we ran an Innovation Jam in the island with all the stakeholders engaged up to date: HEIs and some meanwhile projects located in the island. The encounter aimed to co-design novel learning methodologies and paths in higher education driven by urban challenges, public-private-people collaboration, and co-creation. In that sense, there were presented three challenges that were prioritised exploring the local context and each university has taken charge of one of them:
urban design, inclusion, and social well-being (IED-Kunsthal design school)
circular and collaborative economy (University of Mondragon)
resilience to climate change at neighbourhood level (University of Deusto)
In address to the challenge "climate resilience at neighbourhood level", the University of Deusto is participating with forty-four students from the second year of the Industrial Design Engineering Degree in developing a project for adapting the urban environment to climate change. Students opted for an intervention that tries to bring back nature in the city, increasing the green and blue surface (vertical gardens, gardens in buildings, urban orchards, fountains or ponds), and urban biodiversity.
Between October 2022 and February 2023, students worked in groups of 3-4 people with the mentoring and supervision of their professors, and these are the stages that these projects carried out:
STAGE 1. Analysis
Presentation of the brief.
Analysis of the brief.
Planning and execution of the analysis stage.
Definition of a Vision Statement.
STAGE 2. Conceptualisation
Planning and execution of the conceptualisation stage.
Definition of final concepts.
STAGE 3. Development
Planning and execution of the development stage.
Definition of the final solution.
These are four examples of the temporary uses designed by students:
1. ECOLOR
Vertical gardens arranged in columns covered with methacrylate serve as a refuge for people and housing for insects. Moreover, the idea is to place small LED lights around the Ecocolor to increase the attention of people and the structures have solar panels for self-supply of electricity.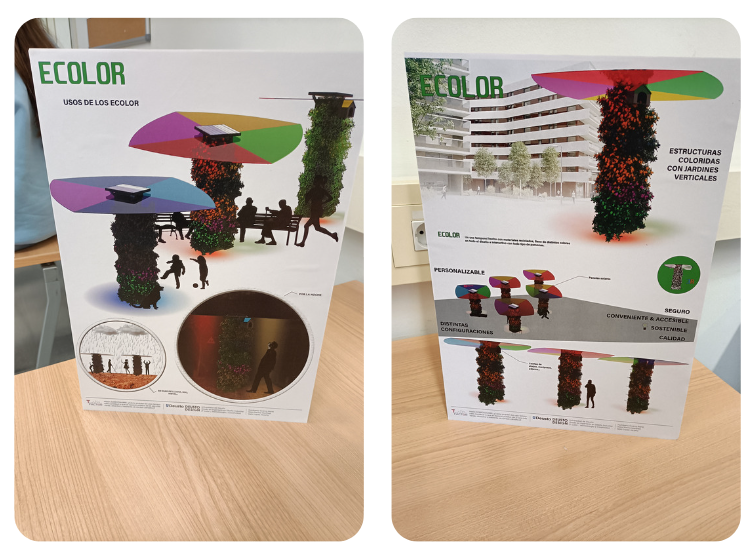 Authors: Humberto Cueva, Nora Santos, Izaro López
2. SUSTAINABLE BENCH
A half-orange-shaped bench. In its centre there is an artificial tree made of recycled mesh. Inside, a rainwater collection system transfers water to the climbing plants growing around, guaranteeing their supply. It is a structure produced on reused or recycled materials that count on eco-friendly working systems requiring minimal maintenance.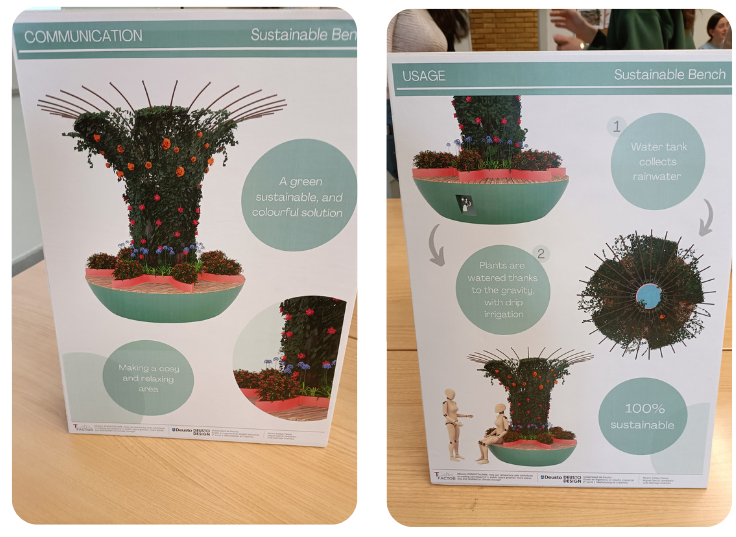 Authors: Alvaro Celaya, Miguel García, Unai Idarraga
3. EKOLEKU
EkoLeku wishes to be a green and educational space, specifically for children, to raise awareness of the importance of ecology in urban environments. In this way, the water mill serves to store rainwater and it can be used to water surrounding plants. There will be explanatory panels where children are encouraged to make a homemade pot with just a pair of scissors and a plastic bottle.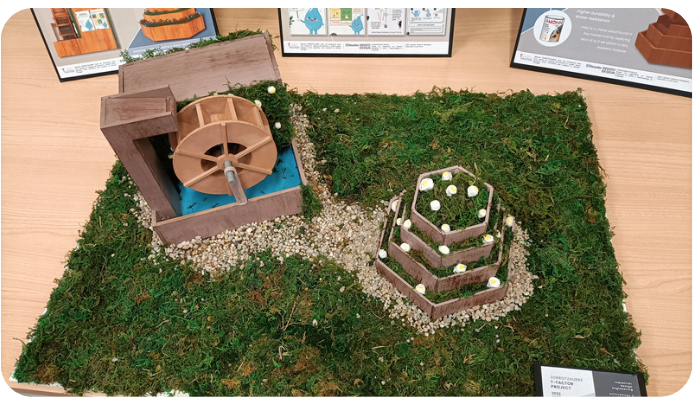 Authors: Juan Ayesta, Marene Rodríguez, Celia Sanz, Lucía Torre
4. POCKET PARK
This place uses graffiti and drawings, recreating an urban environment where green is essential. These are the elements of the park:
A wall where people can draw whatever related to climate change.
A tree with a message to make people aware of the relevance of green spaces.
A door where everyone can write what they would change in the present for a better future.
A coloured bench that represents the diversity needed for a sustainable world.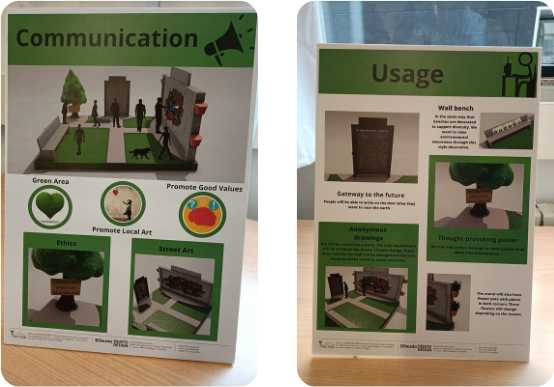 Authors: Asier Díaz, Unai Díaz, Xabier Gil
Zorrotzaurre
From: 01/10/2022
To: 28/02/2023
Mission:
Universities-Grassroots collaboration